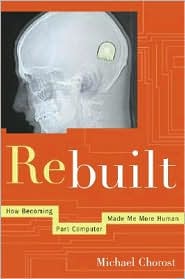 Treat yourself this coming Friday to a fascinating talk by science writer
Michael Chorost
, author of
Rebuilt
and
The World Wide Mind.
His experience with a cochlear implant - a device to enable hearing in the deaf - made him reflect on the human/computer connection, which is reflected in
Rebuilt
and is expanded to explore how computers and creativity intersect and can enhance communities in
The World Wide Mind.
Get a taste of the interesting things in store at this year's
Nobel Conference
and enjoy a fascinating talk at 2:30, Friday Sept. 9th in Alumni Hall. For an even smaller appetizer, see this video of a talk given at the National Academy of Sciences about art, science, and computers.